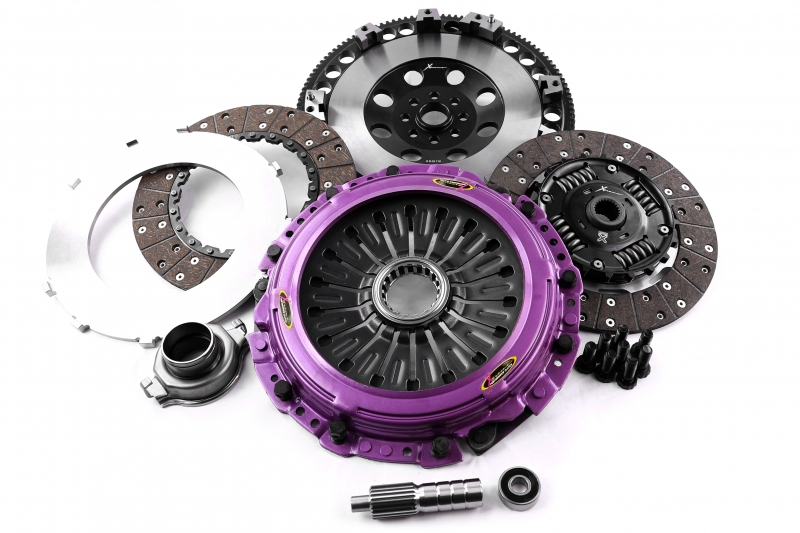 Xtreme Clutch, has recently released a new range of sprung twin disc upgrades for Subaru 6 speed WRX STI models. The new kits are available with organic friction material for street performance and ceramic friction material for motorsport applications.
"Our new 230mm" sprung organic and ceramic upgrades for the Subaru WRX have been designed to provide a performance clutch solution for a wide range of vehicle uses and performance goals," says Stewart Furze, Xtreme Clutch Mechanical Engineer. "These new kits still retain a pull type pressure plate which offers fantastic clamping force, making these ideal for high powered applications up to 1000 Nm of torque. The introduction of a sprung central hub has been designed to provide improved dampening which helps to reduce the shock loading on the transmission."
The kits also include a lightweight 4140 chromoly flywheel, thrust bearing, pressure plate bolts, flywheel bolts, spigot bearing and steel aligning tool. "We always look to provide all of the critical replacement items in our performance upgrade kits," says Stewart. "This helps to improve the efficiency of the installation process for workshops around the country as well as ensuring the performance upgrade is installed with all the necessary support hardware."
To see the team from Mighty Car Mods install this kit in their 2 door GC8 WRX STI, check out the video link below.